Best Outdoor Activities in Raleigh: Raleigh, NC Outdoor Activities & Recreation Guide
Posted by Katherin Burnette on Friday, June 18, 2021 at 7:15 AM
By Katherin Burnette / June 18, 2021
Comment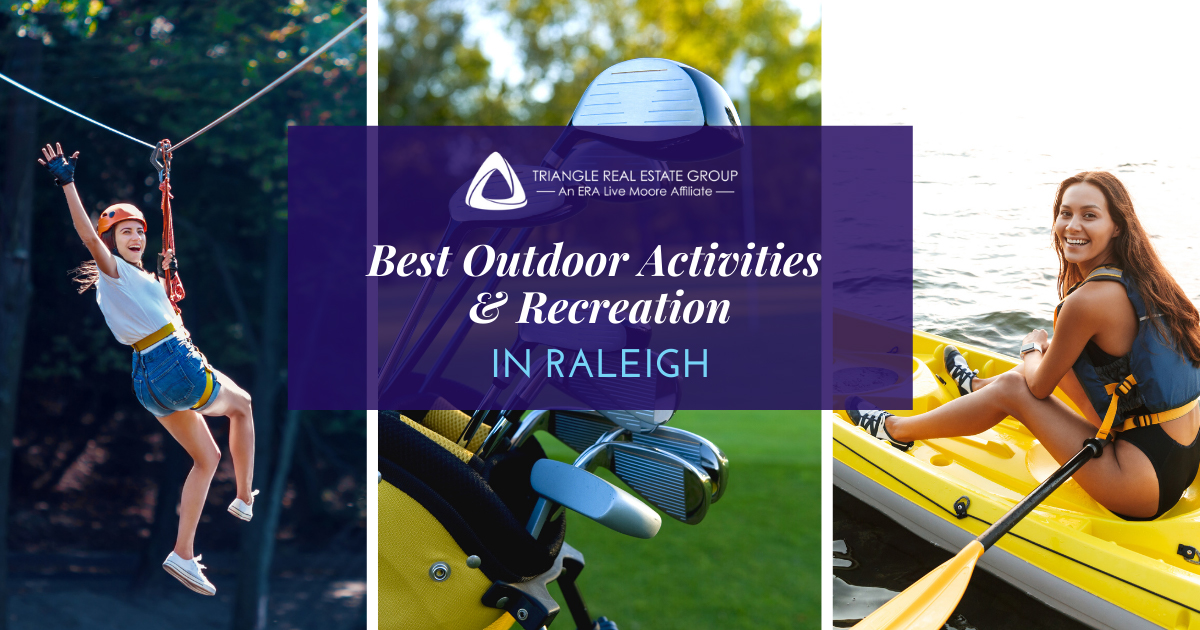 While there are a growing number of luxury homes in Raleigh to tempt people to stay home, the capital of North Carolina is a haven for those seeking to get outdoors. Known for amazing seasonal weather and tech and knowledge institutions, the Raleigh sector of the Research Triangle is filled with happy residents.
Affordability, great jobs, friendly people, and tons of things to do—life in this community is highly desirable. If you love the great outdoors, then you won't want to miss these thrilling open-air places to visit. Read on for a sampling of outdoor activities in Raleigh, North Carolina, that are sure to live up to expectations.
Cooling Water Activities in Raleigh
Whether it's a good day to swim, sunbathe on land, or hit the waters on a boat for recreation or fishing, here are some of the closest areas to Raleigh to enjoy these pursuits and many more.
Falls Lake State Recreational Area
Falls Lake State Recreational Area Amenities
12,000 acres
300 campsites
Trails
Beaches
Falls Lake State Recreational Area encompasses seven areas in a 12,000-acre reservoir, offering over 300 campsites, a trail network, beaches, and more. All this water equates to a surplus of swim beaches, quiet coves for non-motorized boating, and plenty of areas for motorized and shoreline fish seekers.
William B. Umstead State Park
William B. Umstead State Park Amenities
5,599 acres
Trails
Three lakes
Tables and grills
Boat rentals
William B. Umstead State Park covers 5,599 acres of trails that surround a triad of lovely lakes. Bring your own canoe or kayak or rent a boat from the visitor's center for a fishing excursion on 100+ acres of water in the lakes and streams. Be sure to pack a picnic; tables, grills, and shelters are provided.
Fuquay-Varina Splash Pad
Fuquay-Varina Splash Pad Amenities
6,000 square feet
Buckets
Misting tunnels
Waterfalls
No need to get in the water to get drenched at the Fuquay-Varina Splash Pad. Two new water features now excite guests amid a 6,000-square-foot outdoor playland. Buckets, misting tunnels, and waterfalls flow throughout the warmer months.
Raleigh Hiking & Biking Trails
Raleigh Trails
Company Mill Trail—5.8 Miles
Inspiration Trail—0.4 Miles
Loblolly Trail—2.7 Miles
Oak Rock Trail—0.6 Miles
Pott's Branch Trail—1.3 Miles
Sal's Branch Trail—2.8 Miles
Sycamore Trail—7.2 Miles
Multi-Use Trails—13 Miles
With 180 miles of greenways connecting attractions, parks, and open spaces throughout Raleigh, there are plenty of places to hike and bike around town. However, locals tend to head to William B. Umstead State Park due to its expansive trail system and other amenities. Hikers, trail runners, bicyclists, and equestrians are treated to more than 25 miles of different trails.
There are dog-friendly trails and those designated solely for hikers, while equestrians and bikers enjoy several multi-use paths. Whether one is seeking a short scenic stroll or a more intensive nature walk, these looped and interconnected trails have it all. Three lakes, several creeks, lovely bridges, and historic sites dot the trail system.
Top Raleigh Parks
In addition to the massive William B. Umstead Park, Raleigh is graced with numerous public park areas ranging from small and quiet to hundreds of acres of open spaces. Here are some favorites.
Forest Ridge Park
Forest Ridge Park Amenities
Playgrounds
Ziplines
Climbing elements
Nature trails
Fishing spots
Free equipment loans for kids
Forest Ridge Park is widely popular and has a lot to offer visitors. Kids love the playgrounds with amenities such as ziplines, climbing elements, slides, and swings amid soft rubber surfaces. There are also multiple nature trails and fishing spots, and loaner Explorer Backpacks and fishing equipment for kids are available free at the welcome center.
Pullen Park
Pullen Park Amenities
Pedal boats
Train ride
1921 Dentzel Carousel
Playgrounds
Sports fields
Art center
Cafe
Aquatic center
As the first public park in the state, Pullen Park is also the fifth-oldest operating U.S. amusement park. Here, for $1.50 per ride, guests can rent pedal boats, ride a train, and take a whirl on the 1921 Dentzel Carousel. There are playgrounds suitable for kids of all ages, sports fields, an art center, a cafe, and an aquatic center with an Olympic-sized pool.
Walnut Creek Wetland Park
Walnut Creek Wetland Park Amenities
Educational nature walks
Hike and bike trails
58 acres
Visitors can take educational nature walks, hike a trail for fun, or do some cycling amid pristine wilderness at pet-friendly Walnut Creek Wetland Park. Explore 58 acres of local wetlands amid this diverse preserve that focuses on responsible human interactions with nature and providing a habitat for numerous species.
Top Golf Courses in Raleigh
There are several top-ranked golf courses in Raleigh and the neighboring communities. Here are two of the locals' favorite public courses.
Lonnie Poole Golf Course
Lonnie Poole Golf Course Amenities
Food
Drinks
Pro shop
Rentals
Private lessons
Practice zones
The Lonnie Poole Course is located on the NC State University campus and was designed by the legendary Arnold Palmer. The 18-hole course features 7,358 yards of fairways from the back tees for a par of 71. The Lonnie receives accolades from numerous golf magazines and publications as one of the best places in the southeast to play a round. Amenities include food, drinks, a pro shop, rentals, private lessons, and practice zones.
Pine Hollow Golf Club
Pine Hollow Golf Club Amenities
Pro shop
Practice facilities
Lessons
No need to reside in one of Raleigh's golf course homes with Pine Hollow Golf Club just minutes away in Clayton. Among the 18 holes are 6,583 yards of play from the longest tees for a par of 71. While on the shorter side, Pine Hollow is highly rated and is by far one of the best values amid public golf courses in the area. Ideal for golfers of all skill levels, the facilities have the standard amenities one expects at a local club.
Other Fun Raleigh Outdoor Activities
Other Raleigh Outdoor Activities
The Raleigh Flea Market
State Farmers Market
Go Ape zipline
Tree Runner Adventure Park
There are countless outdoor markets and festivals in Raleigh for those seeking attractions—many of which are free. On weekends, The Raleigh Flea Market welcomes 600+ vendors with goods galore. Looking for fresh food, flowers, or specialty goods? Head to the massive indoor/outdoor State Farmers Market, which is open daily year-round and has its own restaurants. Want thrills and excitement? Check out the many karting and amusement parks around the community. Fly through the air on the best obstacle courses and zipline experiences in town at Go Ape and Tree Runner Adventure Park. The great outdoors in Raleigh abound all around!
The Outdoors in Raleigh Are Amazing All Year Long
Whether you love warm-weather hiking and biking or adore swimming, fishing, and boating, three seasons of the year are optimal for these activities. Seeking snow in the nearby mountains for skiing and winter excursions? We have that here, too. The outdoors is just one of many reasons why so many people call Raleigh home.