Best Parks in Raleigh
Posted by Katherin Burnette on Friday, April 30, 2021 at 11:07 AM
By Katherin Burnette / April 30, 2021
Comment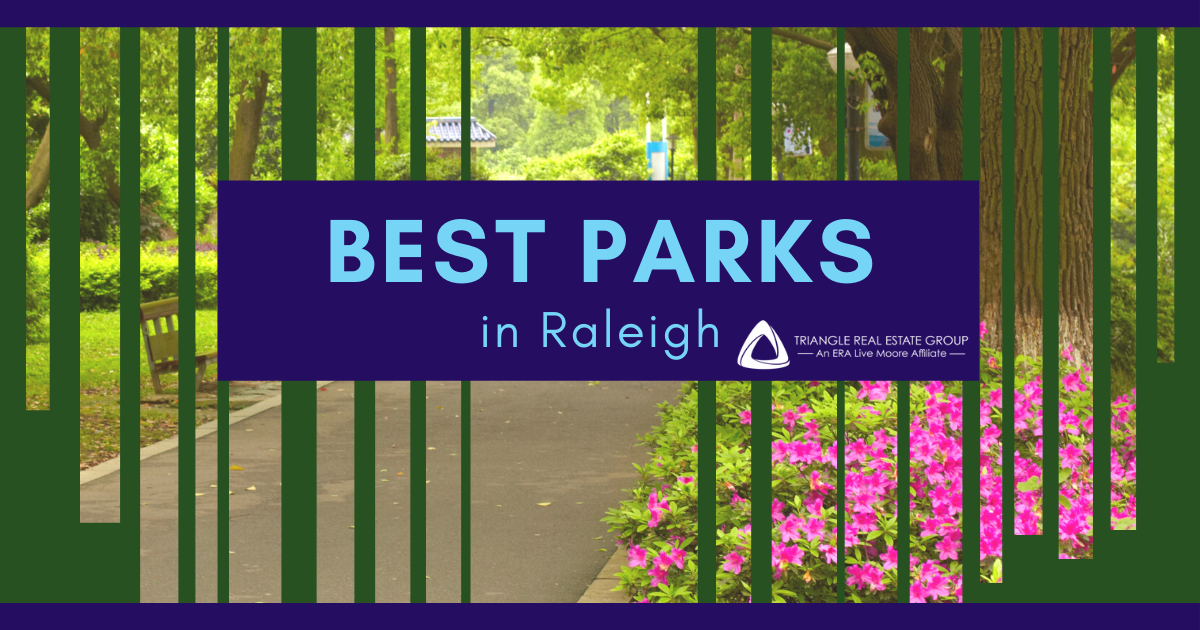 Amid its popular neighborhoods and many exciting things to do, the city of Raleigh is home to more than 200 parks. These true treasures offer residents and visitors everything from wide-open spaces to playgrounds to educational programs. Although it can be difficult to choose just a few to highlight, the following are eight of the best parks in Raleigh.
Lake Johnson Park
Lake Johnson Park Amenities
Lake
Trails
Boardwalk
Fishing
Watercraft rentals
Swimming pools
Waterfront conference room
Leashed dogs allowed
Established in 1952, Lake Johnson Park is unique in that it has been designated as both a metro park and a nature preserve. This 500-acre park surrounds a beautiful 150-acre lake and has several miles of paved and natural surface trails for biking or walking, as well as a 700-foot boardwalk.
Fishing is allowed in the park. No pole? No problem. The park offers free loaner fishing poles and tackle boxes for kids. Lake Johnson Park also has various watercraft available to rent from the park's boathouse, including Jon boats, standup paddleboards, kayaks, and sailboats. The boathouse is located at the park's main entrance.
Lake Johnson Park, located at 4601 Avent Ferry Road, also boasts several nice facilities, including swimming pools, a waterfront conference room, and a lovely deck. Canine lovers will be happy to hear that dogs are allowed in Lake Johnson Park, but they must be kept on a leash. Admission is free at this park, located just about a quick 10-minute drive from Downtown Raleigh.
Pullen Park
Pullen Park Amenities
Pedal boats
Kiddie boat ride
Dentzel Carousel
C.P. Huntington miniature train
Aquatic center
Theater
Cafe
Community center
Pullen Park has a lot to offer Raleigh's residents. In addition to being the first public park in North Carolina, established in 1887, it is also the fifth-oldest operating amusement park in the United States and the 16th oldest in the world.
Some of the park's fun attractions include pedal boats that visitors can take out onto the lake and a kiddie boat ride. The 66-acre park is also home to the Dentzel Carousel, which opened in 1921 and is on the National Register of Historic Places. Visitors can also hop aboard the C.P. Huntington miniature train for a pleasant ride around Pullen Park. Tickets for amusements are $1.50 each. Children under one year of age can enjoy the amusements for free.
This park, located west of downtown Raleigh at 520 Ashe Avenue, is also home to an aquatic center containing an Olympic pool and a warm water therapy pool. Pullen Park also has a theater, a small cafe, and a community center that hosts various activities, including art classes for the public.
Laurel Hills Park
Laurel Hills Park Amenities
Sassafras All Children's Playground
Trails
Basketball courts
Multi-purpose and baseball fields
Pond
Community center
Laurel Hills Park, established in 1975, is a 48-acre park best known for its Sassafras All Children's Playground, which has been designed to accommodate children of all ability levels. This 3.5-acre playground includes equipment suitable for children who may have mobility or other issues, fully accessible picnic tables, an accessible deck, and adjustable basketball hoops.
It also features walking trails and several areas to play sports, including basketball courts, a multi-purpose field, and baseball fields. Laurel Hills Park also has a pond with an overlook, but fishing is not allowed.
This park also has a community center that offers a full slate of programs for the public, including preschool and youth sports classes, adult and family fitness opportunities, and music, dance, and art classes. Laurel Hills Park is located at 3808 Edwards Mill Road.
Shelley Lake Park
Shelley Lake Park Amenities
Two-mile trail
Observation deck
Sertoma Arts Center
Basketball court
Two playgrounds
Shelley Lake Park, established in 1972, is located north of downtown Raleigh. This 53-acre park has a two-mile trail that loops around the lake and is popular with joggers and walkers. It also has an observation deck where visitors can enjoy views of the lake or try to spot some of the park's surprisingly wide array of wildlife species, including deer, eagles, turkey, herons, red-shouldered hawks, osprey, and snapping turtles.
The park also contains the Sertoma Arts Center, which offers Raleigh residents numerous workshops and classes, including drawing, photography, and pottery. Additionally, the center hosts exhibitions and fitness classes. Shelley Lake Park also has a basketball court and two playgrounds with wood chip surfaces and restrooms in the arts center. It is located at 1400 West Millbrook Road and has a large paved parking lot.
William B. Umstead State Park
William B. Umstead State Park Amenities
Three artificial lakes
20+ miles of hiking trails
13 miles of multi-use trails
Tent camping
Maple Hill Lodge
Sprawling over 5,439 acres, William B. Umstead State Park is situated between Raleigh, Cary, and Durham. Opened in 1937, the park was first called the Crabtree Creek Recreation Area but was renamed for the state's former governor William Bradley Umstead to recognize his conservation efforts.
This park has three artificial lakes. Although gasoline motors are not permitted on Big Lake, hand-powered boats, paddleboards, and electric trolling motors are permitted. During the warmer months, people can rent canoes from the visitor center. Fishing is also allowed in the park's lakes.
This park also boasts more than 20 miles of hiking trails and 13 miles of multi-use trails for horses and bikers. Tent camping is allowed in the park, and campers can also stay at Maple Hill Lodge, a historical landmark with no furniture that can house up to 25 people.
William B. Umstead State Park is open every day except Christmas, and there is no entrance fee. Visitors can access it either at 801 Glenwood Avenue in Raleigh or at 2100 N. Harrison Avenue in Cary.
Millbrook Exchange Park
Millbrook Exchange Park Amenities
Community center
Senior center
Basketball courts
Ball fields
Tennis courts and pro shop
Off-leash dog park area
Pool
Millbrook Exchange Park offers something for just about everyone. It has a community center that offers a wide array of classes and programs and has a fitness room. Additionally, a 4,400-square-foot senior center opened in the park in 2012.
For Raleigh's sports lovers, Millbrook Exchange Park offers basketball courts and lighted ball fields. This 69.5-acre park also has a playground and holds the distinction of being home to Raleigh's oldest off-leash dog park. Opened in 2003, it has an area for small dogs and another for large canines.
Millbrook Exchange Park also has a pool covered by a "bubble," so swimmers can enjoy the water year-round. There is also a wading pool and a spray ground, but these are only open during the warmer months. Tennis lovers will enjoy 23 hard-surface courts and a pro shop. Millbrook Exchange Park, which first opened in 1971, is located at 1905 Spring Forest Road.
Durant Nature Preserve
Durant Nature Preserve Amenities
Lake
Trails
Sand volleyball court
Playgrounds
Bird garden
Butterfly garden
Sensory and nature play garden
The land for the Durant Nature Preserve was purchased by Raleigh in 1979 and was designated as a nature preserve in 2010. This 237-acre park contains a six-acre upper lake, five miles of trails, a sand volleyball court, playgrounds, and bathrooms. Durant Nature Preserve also has a bird garden, a butterfly garden, and another garden for sensory and nature play.
Visitors to Durant who want to learn more about the wildlife found in the park can check out free Discovery Backpacks from the nature preserve's main office. These kits contain information about animal tracks, insects, and ponds.
The park does have some restrictions and policies. For example, no personal boats are allowed on the lakes. Anglers can try their luck in the park's lakes, but only from the fishing docks. Pets are also allowed in Durant Nature Preserve, but they must be leashed.
Anderson Point Park
Anderson Point Park Amenities
Open fields
Picnic shelters
Playground
Grills
Canoe launches
Hiking trails
Rental facilities
Anderson Point Park, which opened in 1988, is located at the confluence of Crabtree Creek and the Neuse River. Its 89.6 acres include open fields, picnic shelters, a large playground with a woodchip surface, and grills. Anderson Point Park also has canoe launches and hiking trails. For those who want to wander afar, the park does provide access to the 27.5-mile Neuse River Greenway Trail.
Located at 20 Anderson Point Drive, the park contains several facilities available for rent. They include a historic cottage, a stone-terraced three-level amphitheater that can hold at least 300 people, and picnic shelters with grills.
Anderson Point Park is also popular with birders. Because it includes several habitats, ranging from open fields to mixed pine and hardwood forests to floodplains, 90 different bird species have been documented in Anderson Point Park and the surrounding area. Some of the birds that have been seen include great blue and green herons, summer tanagers, eastern bluebirds, kingfishers, and woodpeckers.
Breathe the Fresh Air in Raleigh
Whether it's access to a dog park for your furry best friend or being close to miles of trails, living in a new construction home or Raleigh townhome near a park can have its advantages.