Most Popular Raleigh, NC Suburbs: Raleigh Suburban Living Guide
Posted by Katherin Burnette on Friday, February 19, 2021 at 11:57 AM
By Katherin Burnette / February 19, 2021
Comment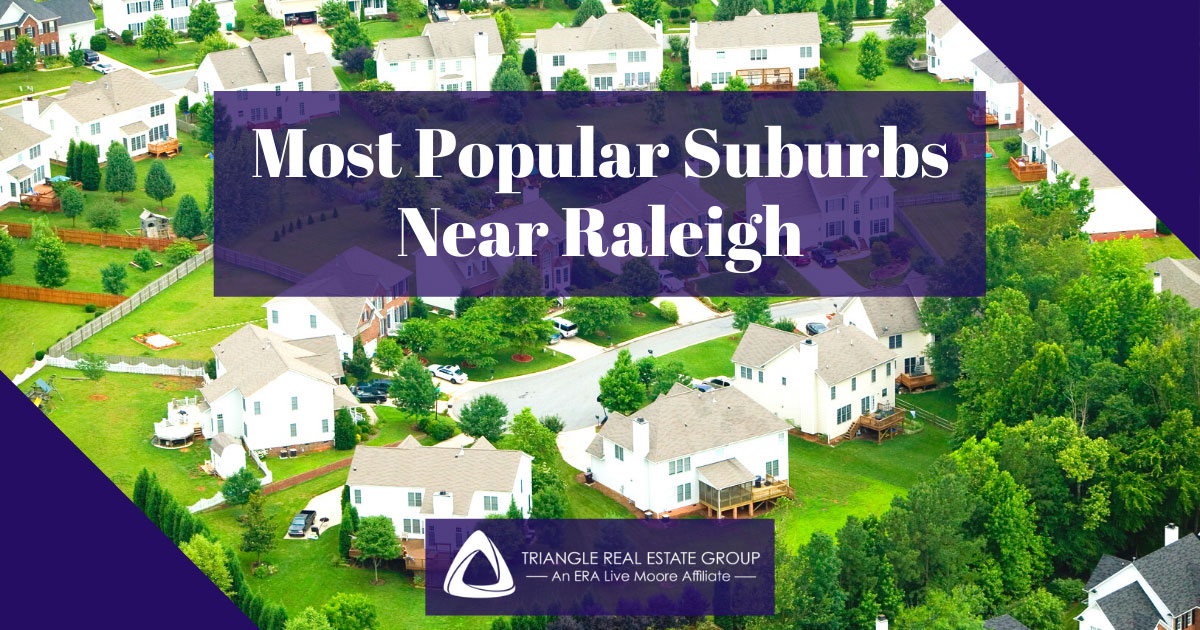 Raleigh is North Carolina's capital city and the seat of Wake County. It is named after Walter Raleigh, who founded the Roanoke Colony in what is now Dare County. The city's many stately oak trees, which line its streets, have earned it the nickname, "City of the Oaks."
Raleigh is one of the nation's fastest-growing cities, with a population of about 1.5 million people, and is an early example of a planned city. It is home to North Carolina State University. Together with Durham and Chapel Hill, Raleigh forms the Research Triangle, which has brought tens of thousands of jobs to the area since its establishment in 1959. Raleigh features more than 8,100 acres of parkland.
Those moving to Raleigh should consider calling one of the city's following most popular suburbs home.
Morrisville
Morrisville Amenities
Parks
Lake
Creek
Fitness center
Community centers
Morrisville is located in Wake County, about 14 miles northwest of Raleigh. It is considered a part of the Research Triangle metro area. About 31,670 people live there.
The town was established in 1852 and named after Jeremiah Morris, who had donated land to the North Carolina Railroad for the construction of a depot, outbuildings, and water tower.
Morrisville's location within the Research Triangle has made it attractive for business offices, commercial properties, and hotels, bolstering its economy. The Raleigh-Durham International Airport is located just to the north of Morrisville.
Morrisville is located in an area of North Carolina known as the "fall line" because it marks the point at which waterfalls begin to appear in rivers and creeks. The town's center is along Crabtree Creek, which feeds into Lake Crabtree, found on the southeast end of town.
Morrisville is home to eight parks, two community centers, four greenways, and a fitness center for its residents to enjoy.
Cary
Cary Amenities
Parks
Community festivals
Tennis park
Baseball training complex
Recreation center
Nature preserve
Cary is located about 10 miles west of Raleigh. About 174,762 people live in Cary, making it the second-largest municipality in Wake County and the third-largest within the Research Triangle.
Cary traces its beginnings to a 1750 settlement called Bradford's Ordinary. The railroad arrived about a century later, and the community was renamed in 1854. The town is named after Samuel Fenton Cary, an Ohio politician admired by the farmer who founded the development.
Cary's layout is split into east and west sections. The east is home to the town's downtown commerce area as well as several neighborhoods. The west contains residential neighborhoods, shopping, and parks, creating a completely suburban environment.
The town holds a number of festivals each year, many of which involve celebrations of arts and culture. It features about a dozen community parks, as well as a tennis park, recreation club, baseball training complex, and nature preserve.
Apex
Apex Amenities
Parks
Community festivals
Youth athletic programs
Cultural arts center
Apex is a town located about 15 miles southwest of Raleigh. Located in Wake County, it includes the community of Friendship along its southern boundary, for a total population of about 70,182 residents.
The town experienced a population boom in the late 1990s, as jobs grew due to the Research Triangle Park. Apex has appeared on several lists as a popular place to live, further spurring growth.
Like many communities in the area, the settlement first began to grow in the late 19th century with the establishment of a railroad station. The community soon became a prominent trading center, due to its proximity to the state's capital. It was officially incorporated in 1873.
The city's recreation department manages several parks, as well as youth sports programs, a skate park, and greenways. Apex also holds a number of festivals, including the annual Apex PeakFest, featuring vendors, arts and crafts, carnival rides, and other entertainment.
Carrboro
Carrboro Amenities
Parks
Community festivals
Playgrounds
Dog parks
Athletic fields
Urban forests
Carrboro is home to about 21,132 residences. It is situated about 30 miles northwest of Raleigh in Orange County and directly west of Chapel Hill and the University of North Carolina campus.
The town was named in honor of Julian Shakespeare Carr, a North Carolina industrialist. Originally known as West End, it was settled in 1882 near a railway spur. Later, the construction of a grist mill brought further growth. It was incorporated in 1911 and received its present name two years later.
The Carrboro Farmer's Market is popular with residents and visitors alike. Established in 1977, it was one of the first to link farmers directly to consumers.
The community is also known for its large number and diversity of eateries. It has been recognized as one of the 100 most popular art towns and holds several annual cultural events.
Carrboro features 10 community parks, offering playgrounds, trails, urban forests, dog parks, athletic fields and courts, and open green space.
Chapel Hill
Chapel Hill Amenities
Parks
University campus
Historic district
Community festivals
The town of Chapel Hill is located across three counties: Orange, Durham, and Chatham. Chapel Hill has a population of about 65,419 and lies about 30 miles northwest of Raleigh. Together with Durham and Raleigh, it makes up the three corners of the Research Triangle. It is well known as the home to the University of North Carolina.
The area that would become Chapel Hill was settled in 1793. Today, it includes several districts and buildings registered on the National Register of Historic Places. Chapel Hill was founded in 1819 to serve the university, later chartered in 1851. It is home to a number of corporations, including health insurance provider Blue Cross and Blue Shield of North Carolina.
Residents appreciate Chapel Hill's small-town feel, despite its prominence as a major metro area. The community has several examples of public art, including large murals painted on the sides of buildings. It also holds an annual street fair, featuring works of local artists and craftsmen. Chapel Hill is also recognized as a center for uniquely American cuisine. It is home to several parks, including the sprawling Battle Park in the historic district.
Holly Springs
Holly Springs Amenities
Parks
Lakes
Recreation center
Cultural arts center
Athletic complex
Located in Wake County, Holly Springs is home to about 40,050 residents. It has experienced rapid growth in the past two decades and is 18 miles southwest of Raleigh. The town was named for the free-flowing springs that emerge in a stream and ultimately a small lake, surrounded by large holly trees.
Following ups and downs, Holly Springs did not see a boom in population until the 1990s. A number of buildings are listed on the National Register of Historic Places.
Residents can enjoy a number of recreational opportunities, including four parks, an athletic complex, and a recreation center. The town also features a cultural arts center.
Wake Forest
Wake Forest Amenities
Lake
Parks
Community festival
Museum
Historic district
Wake Forest is located about 18 miles northeast of Raleigh. It is home to about 48,841 residents and is located almost entirely in Wake County, with a small portion in Franklin County.
The town was incorporated in 1880 as the Town of Wake Forest College, with the word "college" later removed from its name in 1909. In 1956, the college moved to a much larger city, Winston-Salem. A number of Wake Forest's buildings are listed on the National Register of Historic Places.
Wake Forest is home to the Wake Forest Historical Museum, originally the residence of the first president of Wake Forest College. The museum contains photos, books, college publications, furniture, and other items of historical significance to the town. The community hosts the annual Wake Forest Dance Festival each fall.
Wake Forest is home to the Falls Lake State Recreation Area, which includes a 12,000-acre lake and 26,000 acres of wooded land. It is also served by 10 parks and community centers.
Fuquay Varina
Fuquay Varina Amenities
Parks
Athletic fields
Environmental education park
Splash pad
Located in southern Wake County, Fuquay Varina is situated about 19 miles southwest of Raleigh and is home to about 32,698 residents. Its name stems from its origins as two separate communities. The two towns merged in 1963 to form Fuquay Varina.
The town's early growth was due to its agriculture and tobacco trade, giving way to an economy that relies heavily on real estate development today, thanks to its proximity to Research Triangle Park. Today's development includes a number of residential communities and commercial areas along the community's major roadways. Many older buildings remain.
The town's residents can enjoy the community's 15 parks, athletic fields, and a splash pad. Among them is the Carroll Howard Johnson Environmental Education park, featuring nature trails, free teaching kits, and a scenic overlook. The community's splash pad is 6,000 square feet in size and includes 35 water features.
Discover Raleigh's Most Popular Suburbs
Raleigh's residents, as well as those visiting from its suburbs, experience a reasonable cost of living while enjoying a broad number of leisure activities, with more than 150 sites around the city operated by the Parks and Recreation Department. There are 8,100 acres of parkland altogether, with 78 miles of greenway, 112 tennis courts, five public lakes, and eight aquatic centers. Additionally, there are 22 community centers.
The city is also home to a number of professional arts organizations, including the Opera Company of North Carolina, the Carolina Ballet, the North Carolina Symphony, and the North Carolina Museum of Art. Raleigh's downtown is known for its many local art galleries as well as a contemporary art museum. From townhomes to waterfront real estate, new residents in the city can discover all that Raleigh's most popular suburbs have to offer.