Best Walking & Hiking Trails in Raleigh: Raleigh, NC Trails Guide
Posted by Katherin Burnette on Wednesday, May 12, 2021 at 12:10 PM
By Katherin Burnette / May 12, 2021
Comment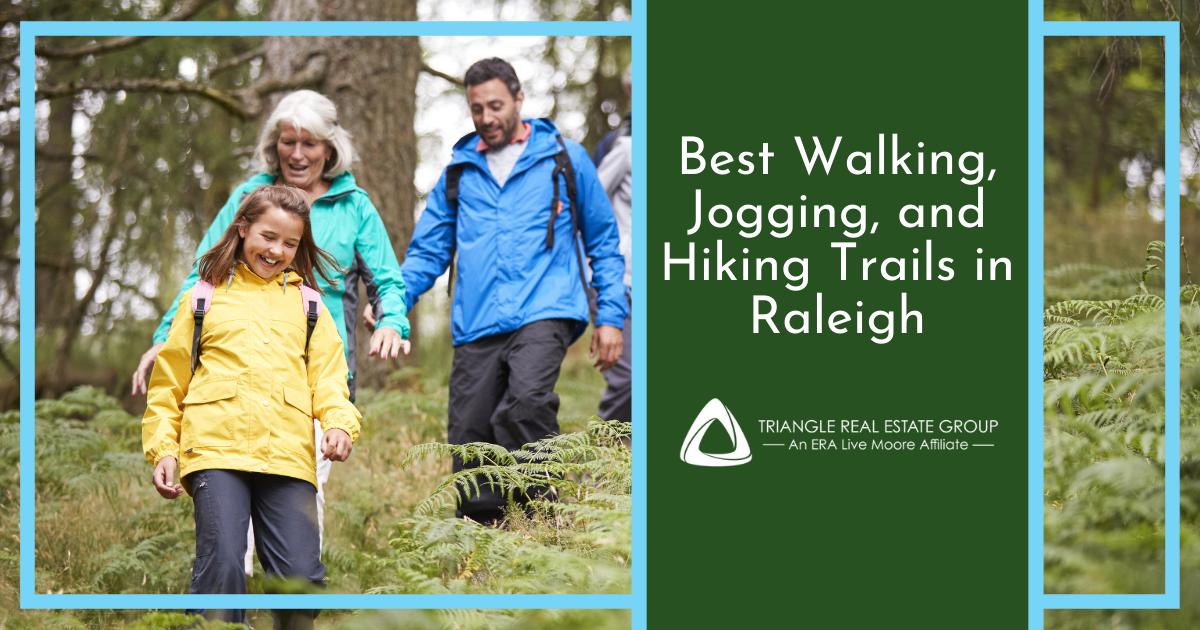 North Carolina is a beautiful state with various scenic views, mountain vistas, imposing waterfalls, and winding paths through lush forests and lakes brimming with activity. When outdoor adventures beckon, residents of Raleigh, North Carolina, can step away from their downtown condos and manicured golf course homes and step into nature's backyard to traverse local walking and hiking trails. Whether a seasoned hiker or biker is looking for a memorable outing or someone is interested in a short-but-invigorating walk or ride, nearby trails offer plenty of choices for people of all ages to navigate and explore. Here's a list of some of the most popular trails in Raleigh.
Mine Creek Trail
For an extended walk that covers 6.5 miles, Mine Creek Trail offers a variety of options to suit all levels of outdoor enthusiasts. The trail consists of five segments ranging in length from 0.25 to 2.5 miles. The segments include Bent Creek, Inman Connector, Ironwood, Lake Park, Sawmill, and Shelley Lake.
Bent Creek and Shelley Lake are paved with asphalt or gravel; the other trails are unpaved. While walking or jogging along the trails, you will pass serene Mine Creek, where assorted waterfowl enjoy a refreshing break. If you also want to take a break, paddle boats are available to rent at Shelley Lake seasonally.
The trails are lined with picturesque trees such as river birch, ironwood, and umbrella magnolia, and during the fall, the trees create a kaleidoscope of color. Bring your bike or inline skates to explore the winding trails at your leisure.
Neuse River Trail
Classic beauty awaits when traversing the 29.8 miles of the Neuse River Trail. The tree-lined trail borders the river for almost 30 miles, so there are plenty of opportunities to enjoy scenic views of the river and observe the local wildlife when walking through the wetland areas or crossing the trail's boardwalks and suspension bridges.
There are opportunities to extend your walk with several connections to additional trails that include Abbotts Creek Trail and Clayton River Walk for another four miles. Both of these trails are part of the East Coast Greenway trail network. There is also an easy connection to Walnut Creek, offering an 18-mile jaunt.
Parking is available at several locations, which also provide restroom facilities and drinking water. The trail surfaces include concrete, boardwalk, and asphalt, so biking and inline skating are possible activities. There is also a chance to "catch the big one" while fishing the river.
White Oak Creek Greenway
A nice way to spend the day is walking, biking, or skating along the seven miles of asphalt surface at White Oak Creek Greenway. The trail offers a peaceful walk through wooded and wetland environments where you might see turtles, buzzards, and beavers enjoying the solitude.
At trail's end, you'll come to the American Tobacco Trail and the Fred G. Bond Metro Park. Other parks the trail provides access to include Davis Drive Park and White Oak Park. The American Tobacco Trail is a lovely tree-lined trail that has the distinction of being the longest rail trail in the state.
White Oak Creek Greenway also provides access to the Black Creek Greenway. Although the trail runs through a suburban area, it is quiet and has no road crossings, so your journey is away from traffic. Keep your eyes peeled for local mural artwork along the way. Dogs are welcome but must be on a leash at all times.
Reedy Creek Trail
Reedy Creek Trail has a little something for everyone along its five miles of concrete and asphalt pathway. The scenic and entertaining trail links Meredith College to William B. Umstead State Park. When you start the trail at the park's edge, your walk will take you past stands of dogwood trees that stand out against the backdrop when they are in bloom.
The trail also passes the Schenck Forest and the Prairie Creek Ecocenter. Bring your camera or focus your phone's camera on the detailed outdoor sculpture you'll see at the North Carolina Museum of Art. Nearby is the museum's amphitheater.
Although the trail is only five miles long, it can be challenging, whether walking or biking, as the terrain is hilly and contains inclines. Additional trails are connected to Reedy Creek, including House Creek Trail and Rocky Branch Trail.
Annie Jones Greenway
Not far from townhomes in Raleigh, the 1.2-mile Annie Jones Greenway offers a cool, naturally landscaped oasis. The asphalt surface is perfect for walking, jogging, skating, or biking. The trail may be short, but it offers the perfect getaway for a scenic journey past statuesque trees and bubbling streams.
The trailhead begins at Annie Jones Park, which features a playground, a sports field, restrooms, and facilities if you'd like to plan a picnic while you're out and about. The well-maintained trail forks with the west branch heading to Annie Jones Park and Scottish Hills Recreation Club, while the eastern branch meanders to Gatehouse Drive via a wooded corridor.
Annie Jones Greenway is an ideal choice for anyone who enjoys short excursions under blue skies amid natural landscapes. The trail is also wheelchair accessible.
Riverwalk Greenway
The Riverwalk Greenway is another opportunity for residents to enjoy Mother Nature with a short biking or walking journey. The surface of this 1.8-mile trail is asphalt, along with a tall boardwalk winding through the forest of stately trees. Benches along the boardwalk provide a peaceful place to take a moment to rest, birdwatch, or take pictures. Hikers and bikers will also encounter a bridge spanning the water below.
Gold Park is the starting point for the trail, which ends at the grounds of the Occoneechee Speedway. The portion of the Riverwalk Greenway located in downtown Hillsborough has double-duty; it also serves as the route for the Mountains-to-the-Sea Trail, running from the Great Smoky Mountains to North Carolina's Outer Banks.
Exploring Nature in Raleigh
Raleigh offers an abundance of things to do and places to see. Taking advantage of its outdoor trails is just another way to immerse seamlessly into the area's vibe. Residents can live an exciting lifestyle experiencing the culture, history, and enticing residential options Raleigh has to offer new and potential residents, as well as a variety of work, business, and educational opportunities.